I remember when this first came out, there was a lot of hype over this mascara. I wanted to try it, but I was a little skeptical and wanted to wait to try out a waterproof version because I haven't had very good experiences with non-waterproof formulas.
I got mine at Target a couple of weeks ago for about $7. Upon opening the bottle, I noticed the brush had a curved shape and it looked like it had way too much product on it. The stopper near the opening isn't big enough to scrape off the excess product like with the One by One or L'oreal Voluminous Million Lashes mascara. I immediately had the urge to wipe off the excess product, but decided to give it a try just as it was.
I was truly surprised with the application, and I really loved the results. This mascara adds tons of length to my lashes and volume without clumping. My lashes actually look visible and stand out quite a bit. Despite being waterproof, the formula is a lot wetter than other mascaras I've tried. I tend to get it on my eyelids when applying (but for some reason it only happens on my right eye!) and it does take a while to dry. The waterproof formula doesn't smudge or smear under my eyes, but still comes off easily with eye makeup remover. It holds a curl really well too, as do most waterproof formulas! Here is what my lashes look like after applying: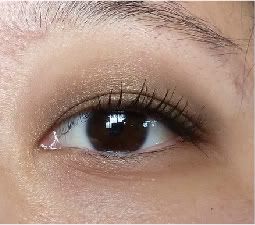 This is definitely one of my new favorites! I wouldn't wear this everyday because it can be a little too dramatic for me sometimes, but it's perfect for going out! I've never worn false lashes before but this gives a natural, yet dramatic false lash effect.